Texas Region 11 Stakeholders:
Tropical Texas Behavioral Health is the OSAR provider for Texas Region 11. As a Texas Region 11 OSAR partner under memorandum of understanding, prevention, treatment, or recovery support services, we would like to present an opportunity for you to take advantage of during our fiscal years 2022-2023. The Texas Health and Human Services Commission (HHSC) has allocated emergency relief funds through all Texas OSARs as listed below:
Opioid overdose prevention kits
Transportation assistance for substance use-related and recovery-oriented services
Personal Protective Equipment (e.g., masks, face shields)
Reusable water bottles
U.S. Food and Drug Administration FDA approved COVID-19 tests and collection kits
Hygiene kits
Air Purifiers
Diapers/Formula
Other (Subject to review and must be approved by HHSC)
If your agency is interested in obtaining any of these HHSC approved COVID-19 relief items to help serve our communities within Texas Region 11, take our survey and we will respond with next step instructions.
Survey Link: https://www.surveymonkey.com/r/SWYZ3BY
We look forward to assisting our Texas Region 11 community partners as we strive together as-one to relieve our communities on the impacts COVID-19 has presented.
Best Regards,
Tropical Texas Behavioral Health
---
Outreach, screening, assessment and referral (OSAR) is a free service funded by Texas Health and Human Services. OSAR serves as a front door for people in Texas seeking substance used disorder treatment services. TTBH OSAR offers free screenings to all Texas residents in the 19 counties in Region 11. OSAR will work with individuals, their families and support systems to make referrals and recommendations that best suit their needs.
Services Provided:
Screening & Assessment: Our dedicated licensed staff provides assessments and referrals to those who are actively seeking substance use services and/or support. The OSAR team conducts verbal screenings to gather information pertaining to severity of use and how use has impacted day to day mental health, in order to provide appropriate referrals to recovery resources.
Interventions: Following the screening, individuals can expect short-term case management services in addition to the opportunity of up to 5 motivational interviewing sessions with their OSAR counsellor.
Support: OSAR counsellors are available for additional support and case management until the individual successfully enters their referred treatment service. Our OSAR counsellor also remain as a point of contact for future recovery support needs. For uninsured or under insured individuals the OSAR team can determine if you are approved for full or partial financial assistance towards your referred treatment services.
Referrals: Once the needs of an individual have been identified for best outcomes of their recovery, the referred services may include detox, residential substance use services, outpatient services medication assisted therapies, supportive employment, or additional community supports.
If we cannot locate local services that will serve your needs, we may assist in finding resources outside of our region to accommodate you.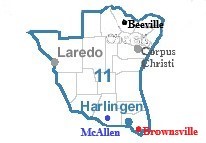 Service Locations
Edinburg
1901 S. 24th Avenue, Edinburg, TX 78539
Weslaco
2215 W. Business 83, Weslaco, TX 78596
Harlingen (Two Locations)
103 N Loop 499 Harlingen, TX 78550
202 S G street Harlingen, TX 78550
Brownsville
861 Old Alice Road, Brownsville, TX 78520
Nueces Centre for Mental Health & Intellectual Disabilities
1546 South Brownlee, Corpus Christi, TX 78404
Border Region Behavioural Health Center
1500 Pappas Street, Laredo, TX 78041
Coastal Plains Community Center
2808 Industrial Loop, Beeville, TX 78102
Centralized Intake Number: 1-800-813-1233
Email: This email address is being protected from spambots. You need JavaScript enabled to view it.
Fax: 956-928-1802