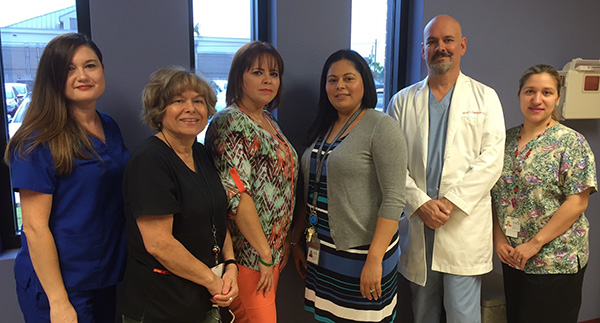 Under the supervision of the TTBH Chief Medical Officer, the primary care clinics provide medical care including diagnosis and treatment of illness, conditions and/or diseases to adults and minors actively linked to Mental Health Services.
Payment for Services - TTBH accepts many insurance plans including Medicaid and MediCare. Many services are available on a sliding fee scale, and TTBH will not refuse services to a person based on their inability to pay.
Please contact us for more information about payment assistance or insurance coverage.
---
Primary Care Medical Services - Primary care physicians provide medical care including diagnosis and treatment of illness, conditions and/or diseases including, but not limited to, acute conditions such as colds and flu, chronic conditions such as diabetes, hypertension, hypercholesterolemia, obesity, asthma, heart disease and treatment of minor injuries such as minor burns, lacerations and abscesses. Medical services will also offer admitted primary care patient immunizations, routine check-ups, injections, early detection and preventive care including, but not limited to, pap smear and screenings for cancer of the colon, breast and prostate. The scope of service will be limited to the training and expertise of the physician, liability insurance and/or complexity or severity of case. Primary care services will not provide, and will refer to specialty provider patients in need of obstetrics, labor and delivery, surgical services, gastroenterology, orthopedics, neurology, oncology, radiology and emergency treatment.
Nursing Services - Primary care nursing staff provides medication training to educate the individual and family on the diagnosed chronic medical condition, symptomatology, medications and possible side effects, and the interaction with their co-occurring mental illness. Incidental nursing services are also provided including, but not limited to, processing lab orders vital signs, weight monitoring, injection administration, and assisting in minor procedures.
Laboratory Services - Basic lab services will be provided within Primary Care Services including, but not limited to, glucose, urinalysis, lipids, Thyroid panel and testing/screening for HIV, pregnancy, tuberculosis, strep, influenza, H Pylori, Occult blood and sexually transmitted diseases. Specialty lab services will be referred out to a contracted lab service.
Pharmacy - TTBH offers pharmacy services to eligible individuals for the purpose of providing them with the highest quality medication at the most economical cost. Pharmacy services are provided through a contracted pharmacy benefits manager. TTBH also hosts a closed-door in-house pharmacy (Genoa). When appropriate to individual care goals and ordered by the prescribing clinician, medications may be provided in weekly blister packs. The Patient Assistance Program (PAP) provides quality medication to eligible individuals at no cost. Administrative staff assists individuals in obtaining and completing all necessary paperwork required by the respective pharmaceutical company for free medications. Sample medications, donated to TTBH by pharmaceutical companies, are also available to individuals without insurance coverage at no cost.
Telemedicine/Telehealth Services - TTBH utilizes telemedicine and telehealth services to supplement on-site clinical care and to improve access to care. The same standards of care and protocols will be observed in the delivery of care via telemedicine and telehealth as are observed in the assessment and treatment of clients on-site. An explanation of telemedicine/telehealth services, equipment and any security, privacy or safety considerations will be provided and the client will be asked to sign a consent to telemedicine/telehealth services prior to use. Clients who are not comfortable using telemedicine/telehealth services will be scheduled with a face to face provider at their request. Telemedicine and telehealth services are offered during the same hours of operation as TTBH's other services.